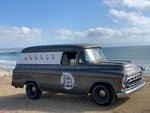 Tap Trucks List of Top Ten truck body styles we find ourselves googlie eyed over! 
The work horses of modern day America. Where would my life be without the truck?  How would I be able to move a couch to a buddies house? What would a tailgate be without my ability to roll up hot and heavy, grill included. My first memories growing up on a ranch actually, are thinking of work trucks. Trucks covered in mud like our farmer neighbors. Then trucks loaded up with a trailer to haul a load of cattle. Then there was the always memorable packed to the gills feed truck. We had a 1983 square body that could max out with about 18 bales of hay. 
As long as I can remember I have whiplash from commercials saying Chevy is the best, then dart back to Ford and then Dodge hits the conversation as well. At the same time though A Toyota Tundra pulled the space shuttle?! Wild stuff. Tap Truck, specializes in the mobile bar realm as we definitely have the look of some classic beer trucks in the form of vintage party rentals. So we keep our eyes on our favorite 
These days the power and stance of the truck helped to give rise to the modern SUV. Though these days SUV's are a bit sportier and smaller, you have to remember where history lies in formation of sport utility vehicles. The engineering of a Jeep, Blazer or a Bronco that helped pave the way to what we find ourselves enjoying. The original Suburbans coming from the body of old panel trucks. It is amazing how the engineering is now as we enjoy luxury! 
Here we go, this is our run down of notable truck bodies and what we at Tap truck USA enjoy!
1937- 1986 Divco Snub Nosed
I had always wondered what Divco meant and now I think it is a great time to ket you know as well in case you didn't. Detroit industrial Vehicle Company. Originally when we were launching our idea for Tap Truck we saw a Divco all restored. It looked mighty fine! So we have to drop it a note here. These beasts we built solid to carry anything from bread to milk car parts. 
1927-  1932 Ford Model AA
These original mail trucks, coca cola trucks, and hardware haulers were the beginning of the industrial truck and what we now call the panel truck. These had to make our list! It is notable that Chrysler had a very nice panel truck too.
1961-1964 Dodge D Series 
Just a notable style here that these original power wagons had with the style line running along the side of the body. The fleet sides are a little more our style with this year.
1957 - 1960 Ford Truck Third Generation
To be blunt this is not our favorite look but i think it is important to give the shout to Fords engineering in these years.  The suspension and how the vehicle rides in these years was definitely a change from eh earlier generations or competitors. At least we have noticed it on our end!
1948-1954 Chevrolet Truck
The Classic! These don't ever get old. The grill got a touch up in 53 and 54. It is incredible to see the type of work put into these trucks. From bagging them to off roading. The style points rims and features are endless! Most came with a straight six 216 or 235.
1948 - 1952 Ford Truck First Generation
Let's put our hands together for another solid build by ford. These manuals had a nice variety of great engines to get set up with. The Y block and the flat head. Soldi stuff. Kind of a fun fact we noticed with the old flat heads is how there seem to be 2 water pumps that are motor mounts as well. Interesting how engineering was learning back in the day!   The notable hoods have a nice look to them and give car collectors a lot of options these days when mixing up color combinations.
These are all the places these trucks were built! 
Chester, Pennsylvania
Dearborn, Michigan
Edison, New Jersey
Long Beach, California
Norfolk , Virginia
St. Paul, Minnesota
St. Louis, Missouri 
Hapeville, Georgia,  
Highland Park, Michigan
1960-1966 Chevrolet C series
What a boss mobile. The C-10 series by chevy was quite the campaign. C stood for custom as you could customize your 10, or 20, to which c10 is 1/2 ton and C20 is 3/4 ton. C30 is the last model which was a 1 ton pick up. In the early years most c10s came with straight 6 until the 283 grew to be used more with a 307, 327 or 350. 
1954 - 1966  Dodge Town Wagon or Navy Panel  
Welcome to number 3! The Dodge Town Wagon, (not to be confused with a power wagon) is a bit rare. Most came with windows down each side as passenger vehicles. We had to have this come in hot on the list as we have a few of these in Tap Truck form. Another reason this ranked high with us is the 12 years or service as Dodge did not change the body much at all, just some grill / light adjustments through the years. These trucks came with the beastly 318 V8 or the slant 6 motor.
1953 - 1956 Ford Truck Second Generation
Flatheads and Y blocks! Ford was cranking these sleek beasts out. Not only did they look good but they were carrying some weight with V8's. This is among the more popular years for the Ford trucks and why it ranks high with our fleet as well!  For some this would be number one!   Either way it is awesome to have a mobile bar in this beer truck form… so check out ours!
1955 - 1959 Chevrolet Apache
Here is our favorite truck body! Hands down! To refine the ideal and iconic nose of a truck with the beefed up muscular lines, nothing quite speaks to them soul like a '57 Chevrolet step side. These days you can slam it or keep its mean stance. You can style up the rims or keep it classy with rallie wheels, mags, anything. The '58 and '59 keeps the same lines but the grill changes with extra lights vs the simplicity and almost face like look with the '55-'57 front end. Style, grace and one lean mean machine. After all this is what our logo was modeled after!
Thanks for tuning in on Tap Trucks list!
Notable body lines for next lists… 1947 dodge trucks can make an awesome beer truck. Another nice rolling refreshment vehicle for a mobile bar rental is a 1970, International Scout. Another winner is a solid 1973-1987 Chevrolet C/K series. C-10 or K-10. These are the years of the Chevrolet square body that carries more or a rugged front end. They keep growing in popularity! Check out Instagram!
Want to start your own beer truck business and own a Tap Truck! Drop us a note on our contact page!