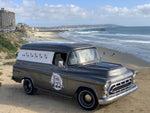 Tap Truck's List of Top Ten classic cars to collect.
In the realm of vintage Americana, nothing is more iconic than the classic automobile. The seamless lines, the styles, the looks that we all find ourselves in awe of. A lot of solid makers, with gorgeous models that have stood the test of time in what we view as a car.  We had to come up with our best list of what we would start our collection with… or maybe we have already begun!? 
Whats the best muscle car? What vehicle is the best classic car? What car is most collect-able? What is my dream car? These are all questions we went through as we thought of our favorite makers and their designs. For this original list we went off our favorite body styles. We hope you enjoy!
1964 Lincoln Continental
Let's put the top down and cruise! Get the 4 door suicide door and roll this thing around like the bosses we are. Cigars included?! This vehicle hosts timeless class with a smooth ride. The suspension is ideal when it is air ride equipped. Again put this car low and travel around nice and slow. Nothing can stop us!  I would prefer to always be in the back seat. Dibs!
1955 Ford Thunderbird
The first generation of Thunderbirds!  What an iconic vehicle that a lot of Americans go their hands on. Ford's portion on this vehicle was again the Corvette and Ford did a great job touch upon comfort and convenience rather then sporting around town. A lot of the hype and engineering around the Thunderbird was the lead into the Ford Mustang. 
1970 Oldsmobile Cutlass
We had to toss Oldsmobile down on the list. For years Oldsmobile made some decent cars and held their own in the market until bankruptcy. Some people would ask, "what does Oldsmobile mean?" It isn't a very attractive name after all, but just so you know. Olds was the name of the family who started the company back in the day. The '71 year has the solid muscle car look. These aren't the most collect-able but never hurts to tip your hat to another solid car!
1957 Chevrolet Bel Air
One of the most collect-able cars of all time. Such a classic that is a cornerstone for any private collector. The '57 is known for some gorgeous sleek fins with a one of a kind type of nose. The modifications are endless with this crowd favorite! Whether you want the need for speed or simple just cruise around, this car can be perfect for both.
1969 Buick Riviera
We had to give a shout to good old Buick. Buick was founded around the turn of the century, until they joined up with GM. The name has always carried weight and the Riviera is one of those vehicles that has been around for a few generations. The muscle body of the 69 always catches our eye, especially when these beasts get dropped low to the ground. I wouldn't stand in its way! 
1966 Chevrolet Nova
One of the coolest stories about Nova is the epic fail in marketing. Sadly Nova in Spanish means "no go." These days Novas do anything but that. People love hot-rodding them out along side their cousin the Chevelle. 
Shout out: Kindig-it
1966 Ford Mustang
Everyone one wants one or knows someone who has one! At one point in high school our baseball team had 7 players driving a 1965 - 1969 mustang. Most were built with solid V8's that have stood the test of time. Modifications and styling can be endless for these old ponies. A lot of collectors have done some incredible work to them.
1932 Ford Coupe (Roadster)
The dawn of American muscle?! Grease lighting!  American Graffiti?  With the baby boomers getting into mischief back in the old days no car was more sleek then the 32 roadster to work on and make a little faster as you crazed around town. These days Roadsters are very popular with the rat rod movement. The cab can be shaped around any frame and engine set up, usually paid with the one of a kind front grill. Check it out!
1959 Cadillac coupe deville
The fins! the 59 fins are the highest!  Wow look at those things.  Riding in an old sofa is often how cruising in an old Cadillac can feel. What a one of a kind style, luxe back in the day came with fins i guess!?
Panel Truck Chevrolet '49 Panel Truck
What would life be like without a panel truck on our list!?   
For some people they bring such a fond memory to folks. Really the first vintage vans before vans were even a real thing. The reason we have to toss this on the list is that the 49-53 Chevrolet panel truck is definitely the inspiration for the PT cruiser as well as the Chevy HHR Panel lt. Panel trucks were the original inspiration for our business. The load capacity they can carry along with the truck inspired look is quite sleek. Go to any car show and there is always one there, looking good but not usually the star of the show.  That award would probably go to one of the other cars on our list done in pristine condition!