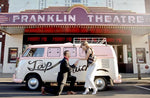 Welcome to the world of Tap Truck San Diego's Bev Busses, where we take the art of mobile beverage catering to new heights! Picture the most vibrant, aesthetically appealing Bev Bus rolling into your event, fully equipped with five state of the art taps to pour an enticing array of craft beers, wines, and handcrafted cocktails. That's all what the Tap Tuck San Diego's Bev Busses is about. We're here to bring the drinks to you so you can focus on creating unforgettable memories with your guests! 

In this blog, we invite you to delve into the world of Tap Truck San Diego Bev Bus and discover why it has become one of the most sought-after vehicles for hosts and attendees alike. From its captivating design to the delightful beverages it pours, we'll explore the essence of this extraordinary mobile bar and how it can add a touch of magic to any type of event! So, hop in and fasten your seatbelts as we take you for a ride through this Tap Truck San Diego Bev Bus experience! 
In sunny San Diego, Corbin O'Reilly is the proud owner of a fleet of Tap Trucks, including a baby blue and pink Bev Bus. Corbin states that "while every vehicle I convert into a Tap Truck is epic, these Bev Buses are so old school and charming". With summer in full swing Corbin has been booking events left and right putting these show-stoppers on full display. 
With such a rich history behind Volkswagen Vans, it's no wonder these sweet Bev Buses are getting booked out! Although most people today recognize these beauties as a VW Van, its true given name is actually the Volkswagen Transporter. These beauties first became a possibility in 1947 by Ben Pon, a Dutch businessman who was inspired by the look of the VW Plattenwagen and was looking for a new and innovative way he could make Volkswagen models more appealing to consumers. A few years later after Pon drew up the designs and went through a series of prototypes, the official Volkswagen Bus was released in 1949! 
The Volkswagen Van release quickly boomed and swept the country off of its feet. Volkswagen ran its first generation, otherwise known as the T1 models, from 1949-1967. The United States quickly adopted the vehicle in 1950. With five more generations to follow, these vans captured the hearts of many and are still incredibly relevant today! The VW largely attracted a more outdoorsy crowd and buyers in America looking for an alternative to vehicles with roaring horsepower coming from Detroit's big auto assembly lines. It's boxy look and customizability appealed to people going against the grain in the countercultural movements of the 1960s. This led to the famous nickname we all know and love today: "hippie van"! If you were looking for a fun vintage touch to your next event, the Volkswagen Van is the perfect addition to the party! 
Volkswagen vans make the perfect companion for all as it is a very customizable vehicle that can truly be modified in many ways. Thus, making for the perfect introduction of a Tap Truck Bev Bus! This vehicle's insane versatility is what led Corbin O'Reilly to make his dreams into a reality with a sweet VW Bus that pours beer right out of the side!

The vintage charm of Tap Truck San Diego Bev Busses sets the stage for any celebration, it truly creates an immediate focal point that will captivate all of your guests and leave them in awe. For any celebration, Tap Truck San Diego ensures that "whether it's a rustic wedding, a beachside celebration, or a corporate gathering, the Bev Bus mobile bars can be customized to align seamlessly with the overall aesthetic and vision of your event".  

Bev Buses are the perfect addition for your fairytale wedding! These two eye-catching Volkswagen Vans tie together any event, creating an atmosphere that is both charming and unforgettable. The iconic design and vintage appeal of the Volkswagen vehicle, combined with the convenience and versatility of a mobile bar, make it the perfect addition to elevate your wedding. It genuinely adds a touch of character that sets your wedding celebration apart from the traditional ceremony. While the little details can be overwhelming when planning a wedding, the Bev Bus mobile bar serves as a stunning backdrop for photos and adds visual interest to your wedding venue. It's vibrant colors, classic curves, and retro design create a serene and picturesque setting that is perfect for capturing your cherished wedding memories. 

Along with weddings, the Tap Truck San Diego Bev Bus is a great way to bring employees together. Recently, one of the Tap Truck Bev Buses had the pleasure of serving a unique corporate event in Kearny Mesa, San Diego. For this event, Corbin poured Clásico Mexican Lager from AleSmith Brewing, Hard Cider from Julian Hard Cider, and a Hazy IPA from Burgeon Beer, all out of the 1966 Volkswagen Bev Bus! This awesome event was for DPR Construction's 8th Annual Cornhole Classic! While everybody loves a good game of cornhole, these folks took it to the next level with over 100 cornhole boards!

The mobile nature of the Bev Bus Volkswagen bar encourages people to gather, mingle, and interact with one another. It becomes a central hub where employees get to enjoy each other's company while sipping on their favorite beverage and enjoying the company around them! Although these Volkswagen Vans may be old, they have incredibly flexible placement that can work with the layout of any office space, indoors or outdoors! The Tap Truck USA team brings expertise and professionalism to ensure smooth operations and exceptional service for your company team. Let us handle the logistics and beverage experience while you sip, smile, and unwind! 

These classic cars evoke feelings of nostalgia to the days of carefree summer road trips, adventures, and a time when life moved at a slower pace. So be it a corporate event, a dream wedding, private home party, or anything in between, our vintage Bev Buses are the perfect addition! Let us bring the vibes and take care of the delicious refreshments, with Tap Truck SD's Bev Busses! Connect with us today!