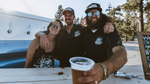 When we began our journey with Tap Truck it started with of our passions: classic vehicles and craft beer. Nothing compares to the artistry of dedication in creating something with a personal stamp. The touches of pride and passion that go into a project. Yes we are talking about blood sweat and tears mixed with days, months, or even years. 
This is of course the case for both restoring an old beauty, or brewing a spot on recipe. What we may enjoy as a refreshing sip of some suds has taken a true artist probably a while to master. Not only that, but he or she had to repeat it perfectly followed probably by scaling the recipe to meet demand. 
Finding local flavors, and the right components in the brewing industry is quite the task! Tweaking, flavoring, refining, cleaning, then attempting to repeat is such a major dedication in hopes of creating a brew for all to enjoy. Here at Tap Truck we have been major craft beer fans since the dawn of time. So our hats off and glasses up to those who have earned our respect in the beer industry. We love working with great people who push to make great product!
We want to know some of your favorite brews around the US and beyond. Pop us an email: taptruckusa@gmail.com
Here is a major list and review of some breweries to chat about in SD (we always update the list): 
10/06/18 - Taylor's Brewery Extravaganza
(Duck Foot Brewing Company)
Duck Foot Brewing Company is absolutely a fan favorite for Tap Truck.  Other than their beers being unique, they are also all gluten reduced. The head brewer of Duck Foot, Matt Del Vecchio, discovered a novel way to remove gluten from beer using a natural enzyme extracted from…. Can you guess it? Lemons! Thus all of their beers they can be enjoyed by gluten tolerant and intolerant drinkers. At this years 2018 GABF, Duck Foot won silver for their wood barrel aged beer. This beer is called RedRum - which is a Red Ale aged in wood bourbon barrels. At our last visit, we were able to grab a taster of RedRum and it is very deserving for this award. A beautiful amber color with a strong boozy taste and an extremely smooth finish, this beer would definitely make it on the Tap Truck for any special occasion. Duck Foot Brewing is undoubtedly Tap Truck approved.
(Thunderhawk Alements)
Thunderhawk Alements is a hidden gem amidst the huge craft beer scene of San Diego, CA. Like the owners of Tap Truck, Thunderhawk owners (John and Bill) have been lifelong friends and have known each other since early youth. These San Diego natives brew and serve over 30 beers using only a 1 barrel system! Brewing around the clock, Thunderhawk puts out top quality craft beer. If you go visit John and Bill, they will most likely be behind the bar or staying busy brewing. Their brewery is legit with a homey feel to it. Our first visit, John introduced himself right away and poured us a tasty 1st anniversary English Pale Ale. Tap Truck would love to pour this fresh pale anytime. Thunderhawk is 100% Tap Truck approved.
(Mikkeller Brewing)
Mikkeller Brewing is a very popular brewery here in San Diego. They have a truly unique theme to their brewery blending a SoCal style with a European flair; Mikkellar has some stellar brews. They recently opened up a new tasting room in Little Italy, featuring 18 tasty beers on tap. From traditional Pilsners to innovative brews like Passion Pool, a Gose Style Ale with passion fruit and sea salt, you won't leave their tasting room thirsty. Tap Truck considers their core poisoner to be one of the best around. Mikkeller is absolutely Tap Truck approved.
(Eppig Brewing)
Eppig Brewing is located in the heart of North Park, CA and their tasting room is placed right on the docks in beautiful Point Loma, CA. Former Ballast Point Brewer, Clayton LeBlanc, is the head brewer for Eppig and his classic and traditional style of brewing allows his beers to showcase a clean and crushable product. You can be sure that you'll most likely never see a hazy IPA come out of his tanks. Congratulations to Clayton and Eppig for receiving a gold medal this year at GABF for their Vienna Lager. Be sure to try their award winner beer along with 10:45 to Denver (IPA), a San Diego favorite. Tap Truck has worked closely with Eppig Brewing collaborating on events throughout San Diego. Tap Truck was happily invited to help with their tasting room grand opening which was quite the party and thus Eppig is unquestionably Tap Truck approved.
(Coronado Brewing Company)
Coronado Brewing Company is considered one of the legendary breweries of San Diego. Established in 1996, Coronado Brewing has been keeping San Diego beer advocates quite happy. Tap Truck loves to pour their Coastwise Session IPA along with their Stingray IPA. Both are loaded with Citra, Mosaic, and Simcoe hops - giving a perfect balance of pine and tropical notes. Whenever we pour Coronado IPA's on the truck, it's guaranteed the keg will be killed by the end of the event. Another core beer they offer is the Orange Ave. Wit Beer; this is a perfect beer to have on a hot day, which there are many of here in sunny San Diego. On your next visit, be sure to grab a flight of these beers plus some of the more fun seasonal beers they serve only in house. Coronado will forever be Tap Truck approved.
(Bay City Brewing) 
Bay City Brewing is conveniently located right next to San Diego's minor league ice hockey stadium - San Diego Gulls. This brewery is the perfect place to grab a quick pint before a Gulls game. They brew a delicious pilsner and dark lager that you should be sure to try out (quick beer slams before the game)! Congratulations to Bay City Brewing as well for their previous award of being named in the nation's top 50 fastest growing breweries.
(Mission Brewery)
Mission Brewery has been one of Tap Trucks first and favorite breweries to work with. Their huge sized brewery is located close to downtown San Diego and by Petco Park. This is an ideal place to go and get tipsy before a Padres game. Be sure to try their Dark Seas Russian Imperial Stout. Other then feeling like a pirate drinking something so dark that might as well be rum, it will get you swerving like you were on a ship. This beer is a sneaky 9.8% ABV that is so smooth you wouldn't know it until it was too late. If you're lucky, the barrel aged version might be available in the tasting room on your next visit. Other than the high quality craft they offer, their brewery is located in an old Wonder Bread facility - a ginormous brick building that has wood scaffolding lining the ceiling. The architecture of this building really fits the theme of Mission Brewery and you feel as if you're under the deck of the Black Pearl (for all you pirate fans out there). Mission Brewery is unquestionably Tap Truck approved.
(Aztec Brewing)
Aztec Brewing is one of the great family run breweries here in San Diego. Owners John and Claudia along with their son Tristan run a 15 barrel system in Vista, California. Tap Truck has poured their beer countless times for our events. Always try to grab a pint of a fresh Simrillo IPA - brewer Paul uses simcoe and amarillo hops that blend perfectly with a light malt base. This IPA is super piney and has a smooth bitterness, making this beer a Tap Truck favorite. If you ever find yourself bored on a Friday or Saturday night, Aztec Brewing hosts local musical talent for open mic nights along with scheduled concerts. Check out their website for more information! Aztec Brewing is proudly Tap Truck approved.
---------------------------------------------------------------------------------------
Beer Truck, Tap Truck, Wine Truck, Mobile Bar, craft beer truck, classic cars, bar on wheels, mobile cocktails, bar catering, cocktail catering, classic beer truck, tap truck wedding, beer truck wedding, party idea, trialer bar, beer truck nation, beer truck brand, trailer bar, beer trailer, brewery truck, brew truck, @taptruckusa
Call us your beer truck, wine truck or bar on wheels, but we are more formally known as Tap Truck where we provide cocktail catering. Our services and experience range from catered events of 25 guests to 5,000 parched folks. This includes simple wedding rentals for your private event, to corporate events, brewery festivals, football game tailgates and more.
Let us know your favorite: craft beer, craft cider, pale ale, pilsner, stout, lager, wheat beer, saison, amber ale, ipa (india pale ale), or even kegged wine that we can supply by a nitro tap. Then Tap Truck can show up as your mobile bar anywhere we can legally serve the thirst quenching party beverages.
We take pride in supporting local, hand crafted American spirits beginning with being major fans of your nearest microbrewery, then incorporating that into a vintage truck bar. Be sure to check out our beverage menu options for a perfect bar catering, including mobile cocktails. Beverage catering is what our professional staff is prepared to knock out of the park for your specific needs!

Tap Truck is started and located currently in the greater United States of America with licensees popping up across the country. We opened our beverage catering company in late 2016 which has already signed four locations. Look up our contact page to submit an interest for your next cater event, or email us at: taptruckusa@gmail.com