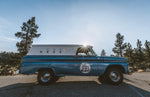 How much does it cost to have an open bar at your wedding?
What a great question and probably the most important question as a host! Tap Truck services are very well rounded to fit any budget. Tap Truck can be a simple vintage party rental serving the experience from the classic truck. The addition of our Tap Tenders can take the experience to the next level as we can even simply pour all the kegs and other drinks you purchase! 
Most hosts go with our full beverage catering and let us handle all the permits and stresses (area permitting)! This is when the quote can get a bit tricky based on your vision:
Custom drinks, beers, wines ciders? Or our local craft package. The menu created gets plugged in to our party algorithm to insure we have enough for your guests.
Service times
Travel, the farther we go the more it can add, but at a certain point we begin to hook up the guests!
Guest count, which saves as your guest count grows. 
Are we booked already!  Oh no!

How much alcohol do you need for a wedding?

This is the most important question when insuring guests are well taken care of. Before Tap truck i personally remember my own wedding being a shot in the dark!  We were short a keg and a half as my guests of 200 drank our beer and wine bar dry! We don't want this to happen to you so we  are ready to professionally ensure having enough for your guests! The first hour of the wedding the guests tend to hang around the bar a bit. We usually even see these waves, cocktail hour (of course), Sitting down to dinner, when the dance floor opens up. 
A good rule of thumb and according to 
www.bridebox.com/blog/alcohol-at-wedding/
 2 drinks the first hour followed by one drink each hour should ensure a solid supply.  Remember if you are getting bottled beers or wine in cases you may be able to return them. Kegs are a different story, but to help your numbers a keg usually holds 160 12 oz pours. 
As you factor in your portions based on reception hours and guest count, remember to also plan the glassware and any other mixer portions. The devil is always in the details so be sure to plan these things in great depth. Or again just call yoru local tap truck and we shall have you dialed in so you don't have to worry about a thing. 

How can I save money on my wedding alcohol?

Saving is definitely key, but at the same time having professionals handling the good times is key. Having kegs definitely helps break down the cost but from there a good idea would be to have bottled beers so that you can return what is not opened. Same thing with wine when working with Bevmo!
When saving money simple is the best route to go. Beer and wine should be the game plan verses adding on cocktails and a full bar. Beer and wine should get the job done. An added bonus is that in todays craft beer world, there is really good quality to be had with higher alcohol percentages. People shall have a good time with simple, or don't invite them when you're the host! 
How many bottles of wine do you need for 100 guests?

This is definitely depending on other drinks being offered and the amount of wine drinkers you might have!   Lets break things down the long way. a bottle of wine should have 5 servings in it. There are 12 bottles in a case.  So 60 glasses in a case then factor this in with the algorithm from bride box earlier to go with the rest of the beverage menu. 
Is it tacky to have a cash bar at a wedding?
This is a bit of an interesting question. In our experience it might be deemed as such, but it is dependent on the guests and your vision with guests. 
Does it work with your theme or venue space? How would this be sued by your guests? Or maybe your aim is to provide them alcohol keeping them very limited by having pay for their own. This is one way to help chip away at the bill you might be facing. Whatever the decision might be it is best to make sure it is communicated all all fronts and invites so your guests are prepared and cash ready! 

Do I need a liquor license for a wedding reception?

What a great question. This really depends on the property, and the local legalities. Some venues may already have a liquor license, other venues or areas this might not even be applicable. In the state of California, more often than not there needs to be a liquor license pulled for legal drinking and the handling of liquor liability. A liquor license design is to account for and take on liability. So these things are important regarding insurance in the handling of a substance once banned from America (prohibition)
In regards to a venue, most do not want to be at fault if an accident takes place, or a bride or groom being who supplied the drinks being in big trouble when a teen makes some big mistakes. Event spaces may require vendors to have a Certificate of Insurance for them as well. We have even worked with spaces that might even have the couple pull out an insurance policy for the date. All we can say is it depends on the state, county and even city where your event is!  Beware some cities may have ordinances for noise within certain hours. 

How much do you tip a wedding bartender?
With Tap Truck quotes we break down and calculate the tip into most of our quotes. So that is taken care of and there is nothing to worry about on the big date!  Then you are not busy worrying about a thing as all details are previously accounted for regarding payment. Sit back , relax and have us take care of what we do best!  
When tipping a bartender specifically it should be factored in time and involvement in the party. With all of our history in and around the wedding industry make sure you take care of those putting in a long day. Maybe a private party you might tip a simple hired bartender a little differently as that person needed to do other details in yoru home/ venue space.   Like most things notice the quality of work verses someone just being a warm body. Some people can be quite characters and not as polished when you're not aware!  Just side notes in what we have seen across our party experience within other companies. 

Can you provide your own alcohol at a wedding?
This valued question is largely dependent on the venue. We have witnessed some weddings where guests get so wild they might feel entitled to grab a full bottle and carry it around.  There is a fine line between a good time and a sloppy mess. Keeping things classy is what a venue wants so it is an enjoyable experience all. Further more that the place is still standing. Brides and grooms should want this as well, so in the case where you get to provide alcohol at a venue make sure it is not free reign on who ever wants to get their hands a bottle!
If you provide your own booze at your wedding make sure it is on point with your theme! Are there certain colors needed? How about the garnishes for your drinks.  Any professional bar company should be abel to help walk you through these details. The details are always found in some solid preparation. Other detail are glassware as well as of course the amounts of ingredients, or alcohol / mixers to bring. Again some items might be returnable!